About Us
Diana Devitt-Dawson is an 'x' Head of Training and senior Alexander teacher. In July 2022 (during COVID) Diana became semi-retired, 'downsized' and moved house to live in Avalon Village on Sydney's North Shore with her husband Geoff Dawson (psychologist & Zen teacher) www.zensydney.com. Diana now focuses on offering presentations and public talks to educate the general public on the teachings of F.M. Alexander and the benefits for psychophysical health and well-Being for young and old. See: Alexander Education page.
Diana (a Tasmanian) is a 2nd generation Alexander teacher with 38 years of continuous teaching experience.
Diana's background is as a health professional, nurse educator and midwife
In 1981-1984 she undertook traditional Alexander teacher training, (5) days per week, 1600 hours over (3) years
Diana trained with Mr. Patrick Macdonald (who trained with Alexander) and assistant Shoshana Kaminitz
In 1984, Post-Graduation Diana became a Cert. M. STAT (London). 1985 -1988 Diana taught at the Alexander Institute under the directorship of Dr Wilfred Barlow (Consultant Rheumatologist / Alexander teacher) in Central London
In 2002 Diana became Head of Training at the Alexander Technique Institute Teacher Training School (Cert. M. AUSTAT.) in North Sydney, Australia
Diana has conducted CPD training and workshops in U.K., Australia and Italy
She has presented at several International Alexander Technique Congresses and Conference
In 2012 Diana undertook intensive (residential) training in, MBSR (Mindfulness Based Stress Reduction) for Health Professionals with Professor Joh Kabat-Zinn, University of Mass, Medical School, in New York
Diana conducts public talks and demonstrations in North Sydney and at Avalon Wholistic Medical Clinic. See: Contact Us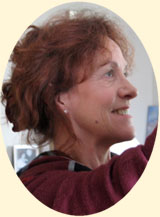 Diana Devitt-Dawson
M. AHPRA, Cert. M.STAT (London), M.AIMA
While studying and living in London Diana had on-going private lessons with senior teachers who were trained by Mr. F.M. Alexander himself. These 1st generation teachers included, Dr Wilfred Barlow M.D. (Consultant Rheumatologist & Alexander teacher/HoT) author of The Alexander Principle and More Talks of Alexander, Margaret Goldie, Elizabeth Walker and Walter Carrington. In 1988 Diana returned to Australia and set up a private Alexander practice in Melbourne while also teaching in a medical practice. In Melbourne, Diana met Erika Whittaker (another 1st generation teacher) with whom she meet weekly for post-grad studies until 1991 when she moved to Sydney. In Sydney Diana taught Alexander lessons in an Orthopaedic practice with spinal specialist, Dr. Bob Gordon-Smith. During that time Diana saw a wide variety of patients with chronic back pain along with other physical and emotional problems that result of on-going pain. It was when Diana developed a keen interest in the on-going, psychophysical and behavioural benefits that result from people (all ages) who learn to apply the Alexander principles, following a course of one-to-one Alexander lessons. In 2002 Diana became a Head of Training and set up the Alexander Technique Institute Teacher Training School (Cert. AUSTAT) in North Sydney. Diana returned regularly to London to conduct CPD training, workshops & give private lessons. Diana has had several articles published in the professional Societies newsletters and journals of, STAT (London) and AUSTAT (Australia).
Interests
Diana is an amateur musician playing Celtic harp and enjoys, world music, writing, reading, book discussions, travel, cycling and country walks with her Border Collie dog 'Sunshine'. Diana lives with her husband Geoff Dawson (psychologist and Zen teacher) in Avalon Village, north of Sydney. She is a member of the Ordinary Mind Zen School, Sydney. See: www.zensydney.com. Diana offers Mindful Embodiment instruction for meditators interested in balanced, tension free, meditation postures.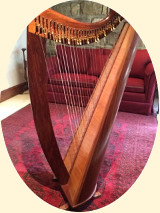 Diana's harp
---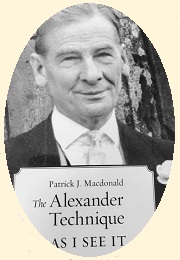 Macdonald read history at Cambridge
University before undertaking teacher
training with Mr. Alexander himself. He
became a respected Head of Training
world-wide.
---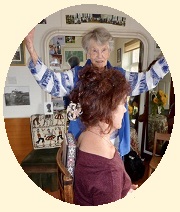 With first generation teacher
Elizabeth Walker.
---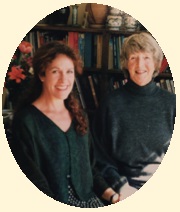 With first generation teacher
Erika Whittaker.
---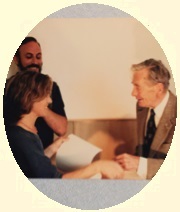 Diana's graduation with
Patrick Macdonald