On-Going CPD in 2020
Two Day Hands-on Refresher Mornings / Build Confidence!

Giving Direction (like giving a gift) to the HN&B
Doing and Non-Doing
with
Head of Training
Diana Devitt-Dawson (See Bio)
Alexander Technique Institute, North Sydney
Friday 3rd April & Saturday 4th April
9am - 12md
Strictly F.M. Alexander like 'Strictly Ballroom'!
So let's dance with CCCI. Welcome! Teachers, post-grads and 3rd year students. In a peaceful, light and supportive learning environment Diana is offering on-going Hands-on Refresher Workshops that build confidence in teaching and presenting the Alexander principles to all ages. As Alexander teachers we educate and assist the learning process by demonstrating and clarifying the principles of inhibition, non-doing and direction-sending that enable pupils (or student) to begin to self-work in their daily life activities and, when in stressful or difficult situations.
The focus in these workshops include;-
Educating and supporting pupils verbally and with hands-on work
Clarifying to pupil's what their role is during lessons
Demonstrating the Alexander directions to the HN&B
Clarifying the terms used by Alexander - jargon free
Instruction in hands-on application to the head, neck and back relationship is given to each participant while, working in pairs, during chair work and table work i.e., hands-on work that demonstrate (a), how to prevent harmful habits to the primary control and (b), that demonstrate the directions (like giving a gift) to, 'let neck be free, to let the head go forward and up to let, the back (torso) lengthen and widen.' Hands-on instruction is also given when demonstrating some of the procedures clarifying the "new means-whereby" (FM) any end may be attained. Once a pupil has experienced the principles they will understand, and will be on the path of learning how-to self-work, to be free from harmful habits of use and reaction. As one French pupil exclaimed, smiling "It's so liberating!"
"We only want to gain our end in the process of ordering our heads forward and up, our backs to lengthen and widen, and so on."
F.M. Alexlander
Bookings Essential
Maximum:- Five participants - Minimum:- three.
Cost:- $225 per (3) hour morning.
Recommended reading:-
Learning to be Teachers, Chapter 8, in The Man and His Work by Lulie Westfeldt.
F.Matthias Alexander - The Man and His Work by Lulie Westfeldt.
Think More Do Less - Improving Your Teaching and Learning of the Alexander Technique
with Marjory Barlow (Alexander's niece) by Sean Carey.
Next CPD Hand-on Refresher Workshops:-
June: Friday 19th & Saturday 20th.
August: Friday 14th & Saturday 15th.
October: Friday 9th & Saturday 10th.
December: Friday 4th & Saturday 5th 2020.
* For groups interested in planning ahead outside these dates please email Diana.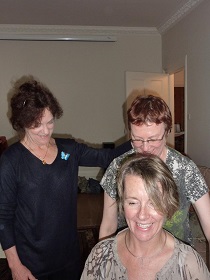 CPD / Refresher with Diana
---
ALEXANDER TECHNIQUE - INTRODUCTORY TALKS
Alexander technique Introductory talk and demonstration
Last Friday of every month
6pm - 7.30pm
Bookings & Enquiries. Email:- diana@alexandertechniqueinstitute.com.au
---
ALEXANDER TEACHERS WORK-EXCAHNGE MEETINGS
Saturday mornings
9am - 11am
All Welcome!
For Dates: See AUSTAT eNews or Email:- diana@alexandertechniqueinstitute.com.au
---
MEDITATION POSTURE WORKSHOPS (Mindful Embodiment)
Learn sit & walk in balance, free from pain
9All traditions welcome!
Saturdays 9am - 11am
"The lightly poised head is synonymous with clarity of Mind and openness of Spirit. The free neck is the key to the naturally vertical spine."
Paul Reps (Zen teacher and poet)
Dates:- See website Ordinary Mind Zen School, Sydney www.zensydney.com
Bookings & Enquiries. Email:- diana@alexandertechniqueinstitute.com.au